Today in class we started sewing. We didn't make anything; we just sewed together a few pieces of muslin as we learned how to use the machines. It may not be glamorous, but it's just a start. Simply using an industrial machine was exciting. I used a Consew model 230. Next week I plan to try a Juki. It will take some time before I can sew with confidence on machines that fast and powerful, but I am starting to feel more comfortable with them.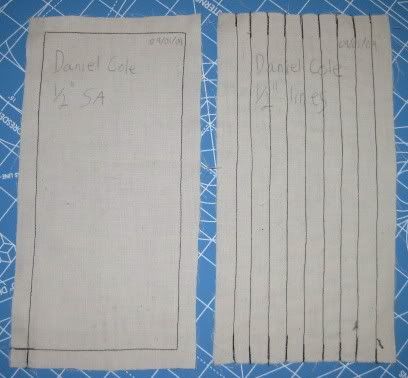 Our assignment in class today was about measuring, cutting, and seam allowances. We began by cutting 24 5" x 10" muslin rectangles. We then sewed together four pairs of them with seam allowances ranging from ¼" to 1". The assignment concluded with a fifth pair of rectangles sewn together with multiple seams at ½" intervals. Vogue will never run an article about muslin rectangles no matter how well they were cut and how accurate and straight their seam allowances are, but making them was good practice and everyone has to start somewhere, so I am very happy with my rectangles.
In preparation for class I needed to buy some supplies. I needed bobbins and a bobbin casing for industrial machines, five yards of muslin
, and some tools. The bobbins and bobbin casing were available at the campus bookstore, I bought the muslin at Walmart, and the tools I eith
er already owned or bought at Walmart and JoAnn. I have been using a Fiskars scissors for years, and few months ago I
bought my first rotary cutter after I noticed some of the designers on Project Runway using them. For class the instructor highly recommended Gingher scissors. I have never had reason to complain about my Fiskars scissors, but I know the ones from Gingher are considered to be the best available, so I bought them. So far all I have cut with them is the muslin rectangles, but they seem to be great.
Whenever I find myself at JoAnn or in the crafts section of Walmart I am unable refrain from making a number of impulse buys. In addition to my class supplies I decided to buy fabric to make a nice bag. I went with duck cloth (my favorite fabric) for the outer shell, a heavy interfacing to give some support, and bright pink polyester for the lining. I started work and quickly discovered my sewing machine could not handle the materials. I simplified the design, removing first the interfacing then the lining, but the duck cloth by itself was still too much for my machine. I gave up on the duck cloth completely and switched to a lighter weight canvas. I attached a zipper and had just three seams left for a simple rectangular bag, and my machine stopped working at all. Without those three little seams my bag is just a flat piece of cloth with a zipper in the middle. I plan to buy a new sewing machine soon. Eventually I'll want my own industrial machine, but that's a few years in the future. For now I just need a basic home machine that can handle a simple straight stitch.
I found a bag in my apartment that will hold all my supplies, but I still plan to make a new one. I could bring the cut pieces to class with me to assemble them with an industrial machine, but I don't know if I'll have time after finishing my assignments. If I get a new machine I'll have it finished for class next week. If I don't have a new machine by then I'll bring the pieces with me and hope I have the time.